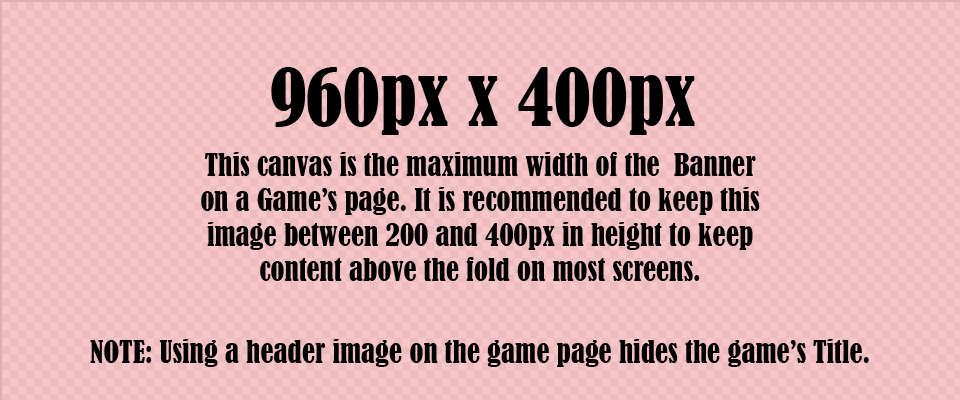 Itch Game Page Image Guide and Templates
Downloadable Guide and Affinity Support Added!
---
Big update, everyone!
Thanks to Kona the Itch Game Page Image Templates now have support for Affinity Publisher and Photo. Kona also took the Image Guide and converted it into a downloadable .pdf for folks that want to print out a copy of the guide or who want to have a file saved on their machine. Please check out Kona's work at Darling Bat Games!

In addition to that, I've also added:
A 16:9 Screenshot Image template, which is the widescreen display aspect ratio compatible with the majority of computer monitors since 2016. This is a common aspect ratio used by video games.
A set of PNGs of the image templates for folks that have trouble opening the PSDs or Affinity files in other graphics applications.
I've repackaged the templates into ZIP files organized by format to make it easier for you to get the file formats right for your needs.
Files
Affinity Itch Image Templates.zip
4 MB
Nov 24, 2020
Photoshop Itch Image Templates (PSD).zip
1 MB
Nov 24, 2020
Readme and Copyright Information.pdf
132 kB
Nov 24, 2020
PNG Itch Image Templates (PNG).zip
442 kB
Nov 24, 2020
Itch Page Image Guide.pdf
565 kB
Nov 24, 2020
Get Itch Game Page Image Guide and Templates