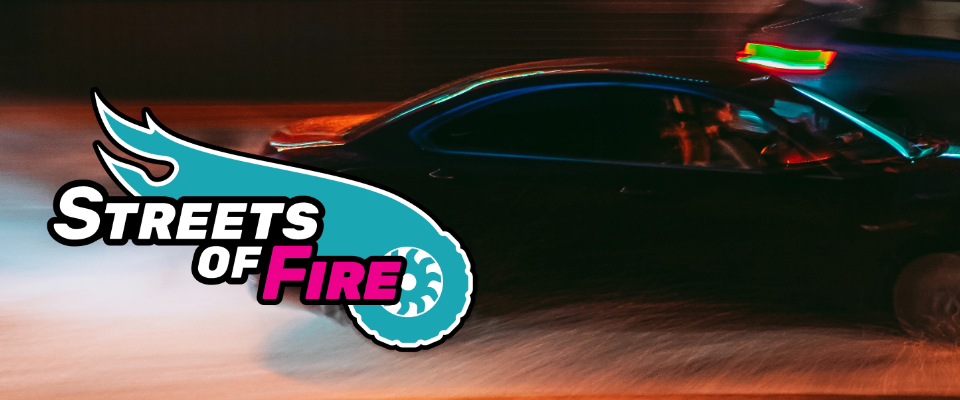 Streets of Fire (Ashcan Edition)
This is Bantral City
Welcome to Bantral City, the self-proclaimed "Motor Capitol of the World"

Racers, petrolheads, and grease monkeys flock from all over the world to get lost in its fast and furious pro-racing scene. But, everyone knows the illegal street racing scene is where the real action is.

Under the nose of Bantral City's authorities, racers from rival crime syndicates compete with pros and freelance crews for a chance at employment, excitement, and cold hard cash.

Are you and your crew ready to step up and win, or will you get left in the dust!
Streets of Fire is a pen-and-paper role-playing game about kick-ass street Racers and their Crews embroiled in high-speed octane-fueled drama inspired by The Fast and the Furious, Initial D, Speed Racer, Motor Crush, and Motorcity.

Players race their Sweet Rides around the Race Track while playing through a series of 9 Minigames designed to frame the sorts of scenes commonly found in the action-centered racing stories Streets of Fire helps you tell.

Compete with your rivals, fall in love with your enemies, and leave your friends in the dust!
Ashcan Edition
This is an early edition of the game intended for playtesting. It includes an art-free draft of the Game Rules, Racer Sheet, and the Race Track.

Everything you need to play (nearly) a full game of Streets of Fire is here, but expect some speed bumps along the way and that things will change prior to the final release.

Most of the the minigames have gone through several rounds of playtesting with the notable exceptions of "Resorting to Violence" and "The Race for the Wally;" Resorting to Violence was completely rewritten in version 2021.06.07, and Race for the Wally hasn't gotten nearly as much play since it requires you to actually play through the rest of the game to make it worth doing. I'm still working on the rules for "The Wrap-Up," but need to get more rounds in first; for now, freely add your own epilogue. Also, none of the bookmarks or internal hyperlinks have been added in yet.

If you get a chance to try out the game, I would love to hear your feedback! Please post a topic to the Discussion Board or email me directly at thecaffeinatedhedgehog@gmail.com.

Banner Image Photo by Vova Krasilnikov from Pexels.

Download
Click download now to get access to the following files:
Streets of Fire Racer Sheet [Ashcan v2021-06-07].pdf
14 kB
Streets of Fire Race Track (Single Letter Print) [Ashcan v2021-06-07].pdf
12 kB
Streets of Fire [Ashcan v2021-06-07].pdf
2 MB
Streets of Fire Race Track (Print-at-Home-Poster) [Ashcan v2021-06-10].pdf
702 kB